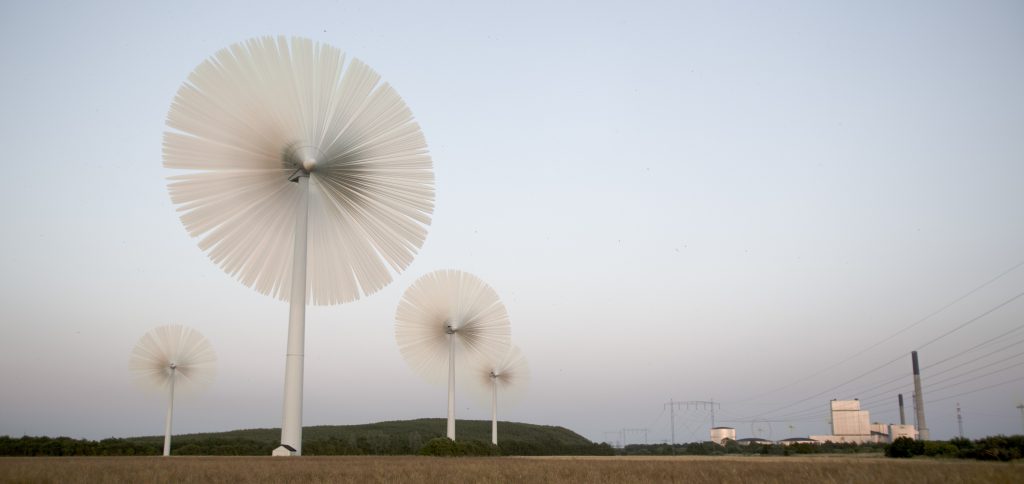 What is really interesting is what happens in your encounter with the image and how it affects your view of wind power?
The image aestheticize wind turbines as gigantic flowers in the landscape – as beautiful artefacts. But how do they affect your and my view of the landscape and nature?
Have we got too many wind turbines, and will the land-based wind turbines in the future be phased out in favour of larger offshore wind turbines in huge wind farms or is there room for even more onshore.
The answer blowing in the wind.
One thing is certain, we will need more green energy production that does not emit CO2 and other gases that create a warmer climate.
The pictures for the montage was taken at Rærup in North Jutland and show the 68 meter high NEG Micon NM 44/750 wind turbines close to Sømærkevej. In the background to the right is the coal-fired combined heat and power plant Nordjyllandsverket, which supplies electricity and district heating to Aalborg and its surroundings.
If you would like to use the montage for any kind of publication, you are welcome to visit Sipureco's image bank and buy the montage.